TOP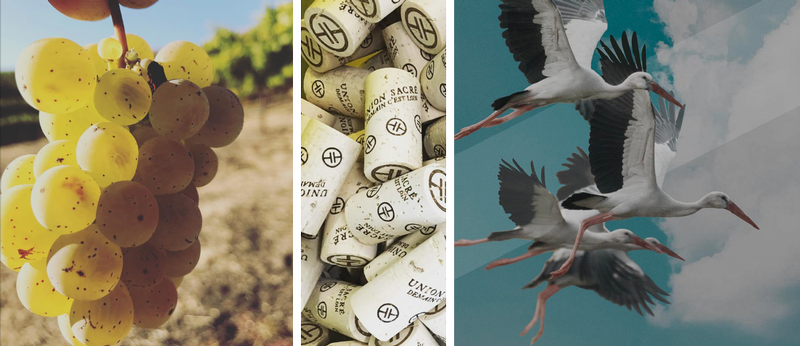 Union Sacré is an homage to Alsace, France and beauty's odd ability to build unexpected bridges.
Union Sacré exists at the meeting of worlds.
These wines are made for the tables of friends, by two friends, from different continents, Xavier and Philip, who arrived at the Central Coast from opposite ends of the Earth. Xavier is a WSET certified, oenology degree holder from France, Philip is a self-taught designer from Michigan who kind of misses living in a van.
Between the two of them, Xavier and Philip have 35+ years experience working in Central Coast wineries. Xavier has made wine with some of the Central Coasts most luminous wineries. Philip cut his teeth at Proof Wine Collective.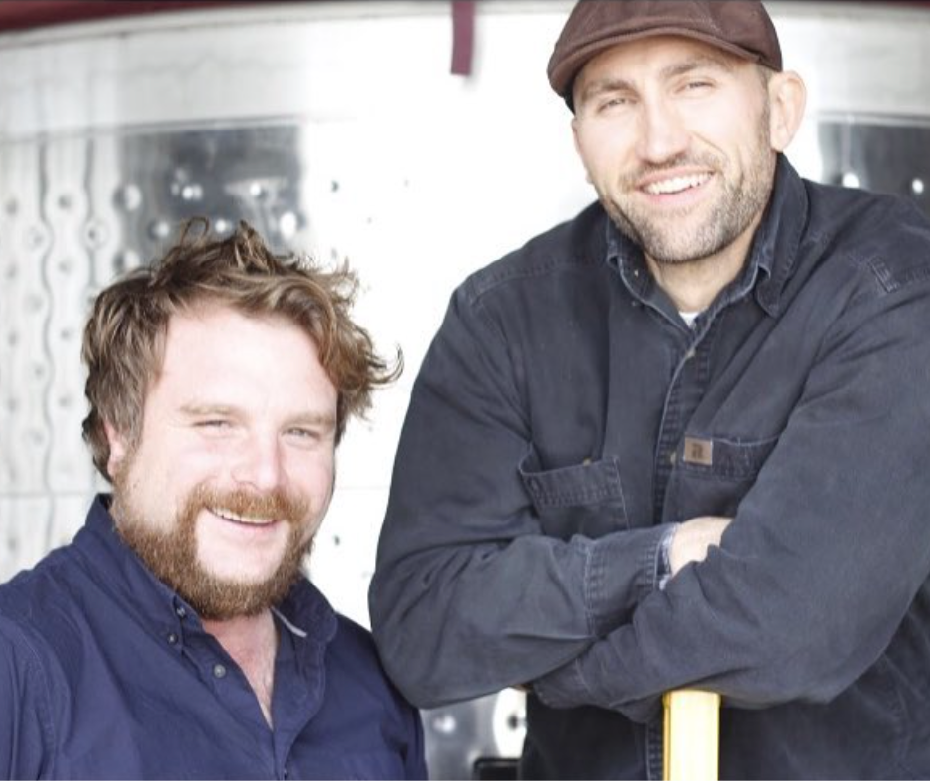 Philip Muzzy
Confident & Partner
Xavier Arnaudin
Winemaker & Partner
Interview Q&A
How did it all begin?
PHILIP: Xavier was one of the first people I met when I moved to the Central Coast. The wineries we worked for shared space, equipment and friends. I had a habit of falling into the tanks while doing punchdowns and he had a habit of laughing at me and helping me out.
XAVIER: Yeah, after a long day by the press making 500 cases of wine, Philip asked, "If you could make wine for yourself, what would you do?" I told him either Champagne or Riesling, he asked me in 2014 if we could make Riesling for his wedding.
PHILIP: We both really love white wine from Alsace, France. We love dry, minerally, elegant whites and wanted to make wine we really like from the Central Coast. For the wedding, we needed something refreshing to break up the super heavy Syrah action that was bound to happen and it was 100% well received!
XAVIER: Yeah, we made a few barrels of each wine. We made a carbonic wine, named "Chipie!" meaning "little brat" it's what you call a little girl who is misbehaving, it's something sweet to call her. It was all possible by getting fruit late in the season from good people. It was a blessing from the community. After the wedding, we sold the rest to Shannon [Burke Wine Brokerage] who sold out quickly! Shannon was like, "Wow, your wine did well, people really like it! Are you going to make more?" and Philip was like, "Yeah!" So, that was it.
PHILIP: It was really great to share it with everyone. So, the next year, we decided to do it again, and do a little more, and a little bit more and little bit more and BLAZAAM! Here we are. It really started as a creative outlet we didn't have elsewhere. I was really excited to put ourselves to the test. What we've learned is that... the wines are great.
What's the meaning behind Union Sacré?
XAVIER: It's two friends with differences who come together to solve a problem. It's from the war in 1913, when the French and Germans had to forget their differences due to a greater threat. Philip and I are very different, an artist and a maker, and we come together to make the best decisions when it comes to the wine. Two different worlds, different angles.
PHILIP: Exactly. We've basically come together to do something we couldn't do on our own. That's the back-of-the-label way to say it. So, yeah, our symbol also represents that. It was inspired by ancient symbology for heaven and earth. It was this circle with a line between it and we created a space in the middle where our two worlds meet.

What type of wine do you make? And why is it important to you?
PHILIP: The wines that we make are table-ready which means they're ready for dinner tonight. They're made to have presence but not take control of the conversation. Basically, they're good house guests or dining companions. You can bring them anywhere. They're wines of elegance and have just enough party to make them fun. There's some wit to them, some intelligent jokes, like a pink Gewürztraminer. The wines that we make,we make to share. It's also a reason why we work with varietals that we love... so that we have them on hand, laughing, but, ultimately, we've been at the table with people who have given us so much that we wanted to bring something back. Why is it important to us? It's our quiet little corner of the world. They're wines that have good manners. They're never gonna leave the sink full of dirty dishes.
Why are there two sides of the label?
PHILIP: The two sides represent the two different worlds. The front side, which I refer to as Xavier's side, is clean, classic, tidy, organized and tells you all the details you need to know. The other side is totally wack-a-doo, but it's from the same substance. The front tells you what it is and the back shows you what it feels.
Why is the meaning of the stork important to you?
XAVIER: It's the sacred bird of Alsace, France, a place I represent. Back in the day, it was exceptional when you'd see one, it was a symbol of good luck. When you travel outside of Alsace in France or Europe and you see a house or business where people are from Alsace, you will always see a stork emblem. It means that when you walk in you will experience Alsatian food or wine. The people are very proud.
PHILIP: I was a reluctant adopter of the stork, but I love it. To be honest, I see Xavier's adoption of the stork as one of the most hopeful signs for Union Sacré as he is proud of what he's doing and that he's home. Words have power with Xavier, he's a big doing business over a handshake guy, he also has a tremendous respect for tradition and history, so when he says, "We are an Alsace House," it's tremendous.
Why did you choose Tin City?
PHILIP: We may have moved out of Mom and Dad's house, but we're still just down the street. Laughing. You don't want to be too far away from your friends. It's an amazing community of winemakers, beverage and snack people. Everyone I've met who's survived starting a winery is a little weird. They have these incredible back stories and ways they've brought all these pieces together to pull together what people haven't done before is really cool. There's a little buzz and some vigor. We're happy to be a part of it. Tin City is emblematic of what's been going on in the Central Coast for the last 20 years. Everyone comes here and just stuffs this place full of dreams. It's pretty cool. We're dream farmers, just put that down.